Countermeasures against Counterfeit Medicines
Countermeasures against Counterfeit Medicines
Reports that 10%-30% of medicines (by volume) distributed in developing countries are counterfeit is a powerful call to action to save patients from harm. There have been confirmed cases of transactions of counterfeit medicines into Japan and health damages caused by counterfeit medicines.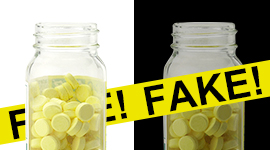 The threat of counterfeit medicines*1 is increasing worldwide, and the value of these products is said to have reached US$75 billion*2. In developing countries, it is reported that between 10% and 30% of distributed medicines are counterfeit, posing a serious threat to patient safety. Manufacturing and distributing counterfeit medicines while deliberately disguising them as genuine, authorized medicines results not only in patients being denied the desired treatment effect, but also risks causing physical disability or death due to unexpected effects. There have been confirmed cases of individual import of counterfeit medicines from overseas via the internet as well as associated damage to health.
In the 5 year period until the end of fiscal year 2017, customs seized over 232 thousand items by means of injunction on importation of medicines which infringe intellectual properties*3. It is evident that many counterfeit medicines are still being imported. Meanwhile, distribution of counterfeit medicines for hepatitis C was discovered in Japan in 2017. Growing attention is being paid to the counterfeit medicine issue, fostering the momentum for discussion of countermeasures.
In July in 2012, JPMA published a joint statement with the other major pharmaceutical industry associations, IFPMA, PhRMA and EFPIA, to support and encourage the efforts by national and international government organizations to reduce the illegal sale of medicines by illegitimate online drug sellers that endanger public health. In addition, the JPMA has made efforts to grasp the actual state of anti-counterfeiting efforts at member companies by regularly conducting a survey on counterfeit medicines among member companies.
Similarly, the Japanese Ministry of Health, Labor and Welfare (MHLW) has taken the following countermeasures, for example, (ⅰ) MHLW established the "Suspicious Drugs Reporting Network," a website for educating the general public on counterfeit medicines and gathering information about counterfeit medicines. (ⅱ) At a conference to promote countermeasures for counterfeit medicines and illicit drugs held in April 2014, the MHLW announced that they would collaborate with stakeholders to promote policies for information gathering, reporting, raising awareness and optimizing regulations on individual importing of counterfeit medicines and illicit drugs. (ⅲ) MHLW started outsourcing activities to monitor domestic and international Internet sales sites from 2014, and 2,327 sites dealing with unapproved drug have been deleted by February 2017*4. (ⅳ) In March 2017, MHLW held the "study group on measures to prevent distribution of counterfeit medicines". From the viewpoint of preventing circulation of counterfeit medicines, the participants discussed the consistent policy from manufacturing to sales, and published its summary*5.
As for Customs, cracking down on the infringement of intellectual property rights and trademark rights in particular via national customs agencies can be an effective tool as a countermeasure against counterfeit medicines.
Japanese police have cracked down on counterfeit medicines and have achieved successful results with seizures and arrests. In addition, Japanese police continuously participate in Operation Pangea coordinated by INTERPOLE, which is international joint law enforcement against illegal drug advertisement and internet sales. On September 2017, involving 197 police, customs and health regulatory authorities from a record 123 countries, Operation Pangea led to a record number of 25 million illicit and counterfeit medicines seized worldwide. it was more than USD 51 million worth of potentially dangerous medicines*6.
JPMA and its member companies contribute to maintain patients' heath in Japan and developing countries by preventing the circulation of counterfeit medicines through raising awareness and close collaboration with MHLW, customs and police.
On the other hand, substandard medicines, which are the result of unfulfilled quality standards despite the medicines being approved and legally manufactured, could pose a serious health risk to patients, and JPMA strongly supports the highest standards for all patients across the world. We will therefore make efforts to solve the problem of substandard medicines using various methods, including where appropriate public-private cooperation, working to raise technical ability in developing countries to international standards.
WHO discussed counterfeit medicines in IMPACT Meeting (Hammamet, Tunisia, 2008). At WHA 2017, they discussed definitions of counterfeit medicines and defined Falsified Medicines as medical products that deliberately/fraudulently misrepresent their identity, composition or source.

Growing threat from counterfeit medicines(Bulletin of the World Health Organization, Volume 88, Number 4, April 2010, 241-320)
Initiative by member companies
| | |
| --- | --- |
| Collaboration with INTERPOL(2013 to 2015) | Twenty-nine global pharmaceutical companies had given funding to INTERPOL for its efforts to combat counterfeit medicines (including raising awareness, exposing counterfeiters and distributors, capacity building for discovery of counterfeit medicines). JPMA member companies such as Astellas, Chugai, Daiichi Sankyo, Dainippon Sumitomo, Eisai, Otsuka and Takeda participated in this initiative. |
| Collaboration with PSI (Pharmaceutical Security Institute) | Thirty-seven global pharmaceutical companies have given funding to PSI with respect to its efforts to combat counterfeit medicines (including gathering information, collaboration with law-enforcement and raising awareness). JPMA member companies such as Astellas, Chugai, Dainippon Sumitomo, Eisai, Otsuka, Shionogi and Takeda participated in this initiative. |