About OPIR
Mission
The Office of Pharmaceutical Industry Research (OPIR) was established in January 1999 by the Japan Pharmaceutical Manufacturers Association (JPMA). The OPIR has its mission to analyze the internal and external environments of the Japanese pharmaceutical industry and the mid-and-long-term issues it faces, and to make public policy recommendations based on its research.
Objectives
Through its research, the OPIR aims to develop an economic and social framework which contributes to the swift and continuous provision of innovative and efficacious medicines with appropriate prices. The framework should enhance access to and proper use of the medicines by healthcare consumers. OPIR research is also expected to contribute to raising public awareness of the importance of and the social role of the pharmaceutical industry.
OPIR serves as an open laboratory for research and policy recommendations and development of human resources through friendly competition. OPIR proactively promotes its research including outside research collaboration and external research contracts.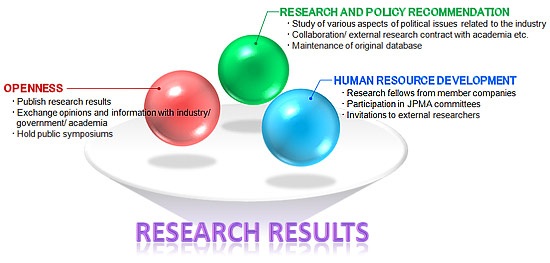 Project
Research results already published and ongoing research themes in recent years
Policy for Innovation
Strengthening the global competitiveness of drug discovery and basic technology in emerging areas
Strength of basic research for drug discovery in Japan
Current situation of personalized medicine and trends in pharmaceutical industry
Public support of R&D and the performance of the industry
Contribution of Japanese pharmaceutical industry to growth of Japanese economy
Global competitiveness and growth strategy of R&D oriented pharmaceutical companies
International comparison of tax system for pharmaceutical industry and global competitiveness of drug discovery
Infrastructures for R&D
Challenges to streamlining drug discovery process in Japan, viewed from the patent application trends in the area of biomarker related researches
Roles of pharmaceutical industry in biomarker development
Alliance between pharmaceutical industry and bio-venture companies
Duration of clinical trials and regulatory review of new drugs in Japan
Cost and length of research and development of new drugs
Handling of drug safety information during the life cycle management of new drugs
Survey of current status of clinical trials in Asian regions
Medical Care for Patient
Survey of drug lag in Japan
Current status of new drug development and approvals for unmet medical needs
Challenges to innovation of orphan drug development in Japan
Regulation of drug pricing and cost-benefit to patients
Impact on innovation and consumer surplus by the premium pricing for new drugs
Social action program of R&D oriented pharmaceutical companies in developing countries
Environment of Pharmaceutical Market
Access to new drugs and market dynamism : Impact on new drug development in Japan by market forces
Trends of drug discovery technology by pharmaceutical industry in emerging countries
Strategies on generic drug business by pharmaceutical companies including R&D oriented companies
Impact on pharmaceutical market by the promotion of generic drugs use
Business risk management in pharmaceutical industry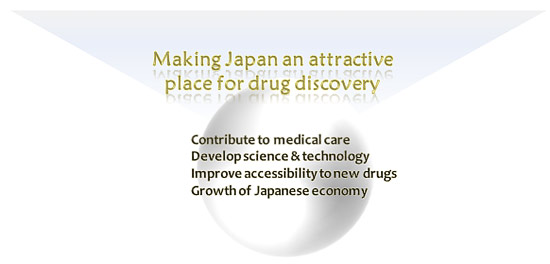 "Future Image of Pharmaceutical Industry - Missions and challenges in the industry toward 2015 -"
"Strengthening competitiveness as 'A place for drug discovery' - Current situations and challenges in the pharma industry -"