President's Message
Building a Healthcare Ecosystem for creating innovation one after another We contribute to improving the healthcare level around the world through creating innovative pharmaceutical products.
The Japan Pharmaceutical Manufacturers Association (JPMA) is an organization that, as of October 2022, consists of the 71 research and development-oriented pharmaceutical companies. We aim to contribute to improving the health and medical care of people in Japan and around the world through creating innovative pharmaceutical products.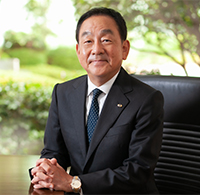 The world is now facing the threat of COVID-19. Under the pandemic of COVID-19, JPMA and its member companies are reaffirming our mission, as R&D oriented pharmaceutical companies, to develop drugs and vaccines and provide the stable supply of high quality medicines.
On the other hand, it's essential for Japanese pharmaceutical companies to further strengthen our capability of developing innovative new drugs for unknown infectious diseases in order to fulfil unmet medical needs, which lead to protect the lives and health of patients.
In order to strengthen drug discovery capabilities, it is necessary to build a healthcare ecosystem in Japan by establishing life science clusters in Japan consisting of human resources who conduct cutting-edge research to discover innovative seeds, and building a big data infrastructure for accelerating digital transformation (DX) and a drug price system that appropriately evaluates innovation of pharmaceutical companies.
It is also necessary to prepare the environment that innovations created not only by pharmaceutical companies but also by entrepreneurial academia or ventures are properly evaluated at risks and more importantly intellectual properties are protected by the patent system, where younger generation can start their own business one after another following success stories.
In the processes, the pharmaceutical industry will play a central role in delivering innovative new drugs to patients by leveraging cutting-edge drug discovery technology, large-scale clinical trials capability and manufacturing know-how.
Currently, digital technologies such as AI, IoT and 5G are rapidly developing. DX brought about by data and digital technology is not only useful for the pharmaceutical industry such as seed discovery and development of new drugs, clinical trials and post-marketing surveillance, and stable supply of drugs, but also for disease prediction / prevention, personalized medicine, and extending healthy life expectancy of people. It has the power to bring great benefits to society as a whole.
We aim to be a DX hub in the healthcare field, by combining digital technologies and big data infrastructures of different industries to create unprecedented new value, and contribute to fulfilling the unmet medical needs and improving the health of people around the world.
Furthermore, in order to build an attractive healthcare ecosystem in Japan, it is essential that the results of innovation are properly evaluated. It is now under discussion of reviewing drug prices and other systems in order to achieve both "promotion of innovation" and "sustainability of universal health insurance". JPMA will promote dialogue with all stakeholders toward the realization of a system in which the value of new drugs as a result of innovation is properly evaluated.

In the "JPMA Industry Vision 2025," we advocated "Bringing Innovation in Drug Discovery to the world," and listed "Becoming a trustworthy industry with noble aspiration" as one of our visions. JPMA will continue to pursue a healthier society by promoting our reforms so that we can be strongly trusted in the changing social situation.
Okada Yasushi
President of Japan Pharmaceutical Manufacturers Association